Sacred Pause Series
December 23, 2020 December 31, 2020
Series Of Classes
Location
Online - remote class via Zoom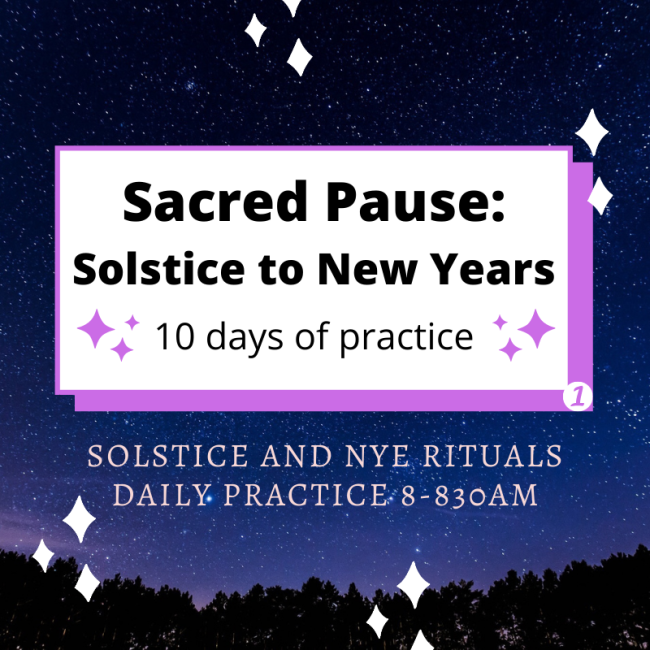 Sacred Pause
Dec 21 - 31, 2020
Registration for this series will close once the series has begun. If you want to request to join after the series has started, please email
[email protected]
.
Monday 12/21 Solstice Ritual (drop-ins allowed, go to that class listing to register)
Tues 12/22 - Thur 12/31 Daily Practices 8 - 8:30am (register for the series)
Thursday 12/31
NYE Ritual (drop-ins allowed, go to that class listing to register)
This year has held so much. So. Much.
We need more than just one day, one space, one ritual for making meaning of it all.
These are also auspicious and important moments for reflection. The Winter Solstice is a potent time for pausing and reflecting. A full moon in Cancer on December 29 guarantees big feels and lots of depth.
And a once-every-few-hundred-years Conjunction will literally usher us into a new era, right on the heels of the solstice. As our beloved Chani Nicholas says,
"The Great Conjunction occurring on the solstice, a moment historically equated with new beginnings, is a far more powerful initiation than the turning of the clock to January 1st, 2021. Make sure you mark this date and use it to set your intentions…What we begin now has incredible staying power."
The days at the end of the calendar year can often be disruptive to our life rhythms, creating or intensifying dyregulation in our systems. This year, as we (hopefully) stay home and stay safe, my hope is that we can keep ourselves tethered and grounded through steady practice during these times. I also hope that daily practice will support us in metabolizing some of the grief and intensity of this year in mindful, supportive, gentle and generative ways.
Will you join me? Read on for details.
Sacred Pause technically includes << 11 >> days of practice, including rituals on Solstice and NYE, plus daily morning practice.
Sacred Pause is designed to help you make meaning of these challenging times.
Our schedule for Sacred Pause is as follows -
✨Monday 12/21 - Solstice Ritual - 5:30-6:45pm Eastern - this will include some yoga
✨Tuesday 12/21 - Thursday 12/31 - daily morning practice* from 8-8:30am (see note on Slide 3 regarding 12/25 - 12/27)
✨Thursday 12/31 - NYE ritual - 5:30-6:45 Eastern - this will include some yoga
✨ Self-paced yoga practices for you to do whenever you choose
Tuesday, 12/22 - Thursday 12/31, we'll have daily morning practice from 8-8:30am. Each day will have a different theme or focus, including grief, the gift of these times, looking back / looking forward, and more. You will receive recordings if you can't join live, but you will benefit most if you can sync up with the rhythm of practice.
Your registration and investment in Sacred Pause get you access to our Solstice ritual on the evening of 12/21, our daily morning practices, our closing ritual on the evening of 12/31, and short pre-recorded yoga practices that you can use at any time. *Note: the daily practices on 12/25-12/27 will be pre-recorded, as I will be offline and beyond the reach of wifi during those days. You'll also receive recordings of each daily practice so you can do them later if you're not able to join, but I am hoping you can commit to joining live because we will be connecting with each other during our time.
Our daily practice spaces will include a mellow and mindful mix of centering and meditation, reflection and journaling, some mutual connection (pair work), and breathwork. Note that these spaces will mostly NOT include yoga, but I'm offering you a few home recordings that you can combine with our daily practices if you choose.
Your investments in Sacred Pause include your time, energy, intention and attention. In addition, I am asking you to invest $20-50. Payment accepted via Venmo (preferred), PayPal or Square.
The class takes place on...
December 23 at 8:00 am (Wednesday)
December 24 at 8:00 am (Thursday)
December 25 at 8:00 am (Friday)
December 26 at 8:00 am (Saturday)
December 27 at 8:00 am (Sunday)
December 28 at 8:00 am (Monday)
December 29 at 8:00 am (Tuesday)
December 30 at 8:00 am (Wednesday)
December 31 at 8:00 am (Thursday)

This class series has already started. Please contact us directly to register.